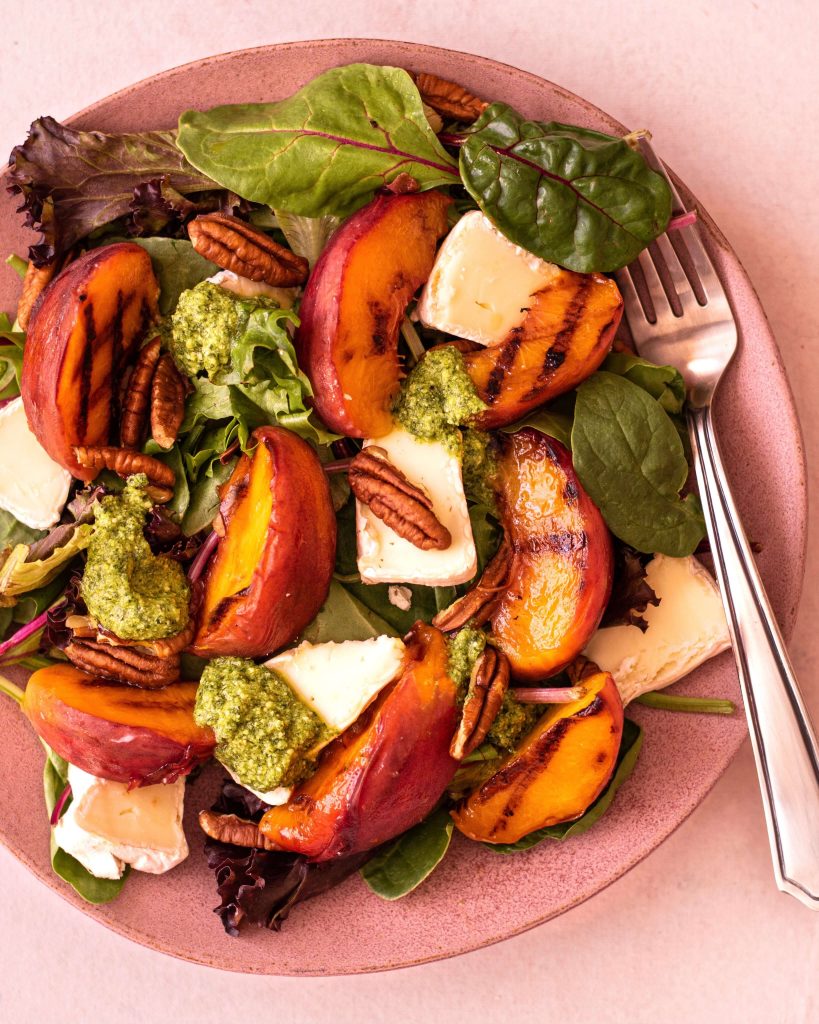 I am trying to make the most of this season's delicious fruit, so a salad with grilled peaches is a must! I love adding fruit to salads to give them a special touch.
My go-to mixture is greens and/or legumes, some seasonal fruit, dried fruits or seeds, some nice cheese (optional) and vinaigrette or pesto. The combinations are endless, and we can use these salads both as a side or main dish.
Grilling peaches is very simple and it only takes 5-6 minutes. Just heat up the grill with some olive oil until it is very hot and place the pitted halved peaches on top. Grill for 2-3 minutes on each side undisturbed for 1-2 minutes, so that they get lovely grill marks.
Then just cut them in 2 or 3 wedges and add them to the salad.
This particular salad starts with a bottom layer of assorted greens drizzled with olive oil, the peaches on top, some brie cheese, walnuts and a few dollops of delicious basil pesto. 
If you try out this Green Salad with Grilled Peaches, please do not forget to rate it and leave a comment! I love reading and replying to all your comments! You can also tag your pics to @elinasaiach on Instagram!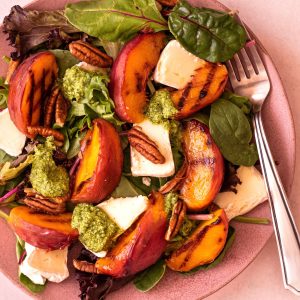 Green Salad with Grilled Peaches
Ingredients
Assorted greens

Peaches, pitted and halved

Walnuts

Brie cheese

Basil pesto

Olive oil
Instructions
Preheat a grill or griddle with some olive oil. Grill the peaches for 2-3 minutes on each side without moving them (when they are almost done, you can lift them a little to check whether they are browning) until they get grill marks.

Mix the greens with some olive oil, place the rest of the ingredients on top and season with salt and pepper.