These Strawberry and Pastry Cream Mini Tarts are a delightful dessert that will captivate your taste buds. These petite treats feature a delicate, buttery pastry crust that cradles a luscious filling of creamy, velvety pastry cream. Topping off each mini tart are vibrant, juicy strawberries that add a burst of freshness and a pop of color.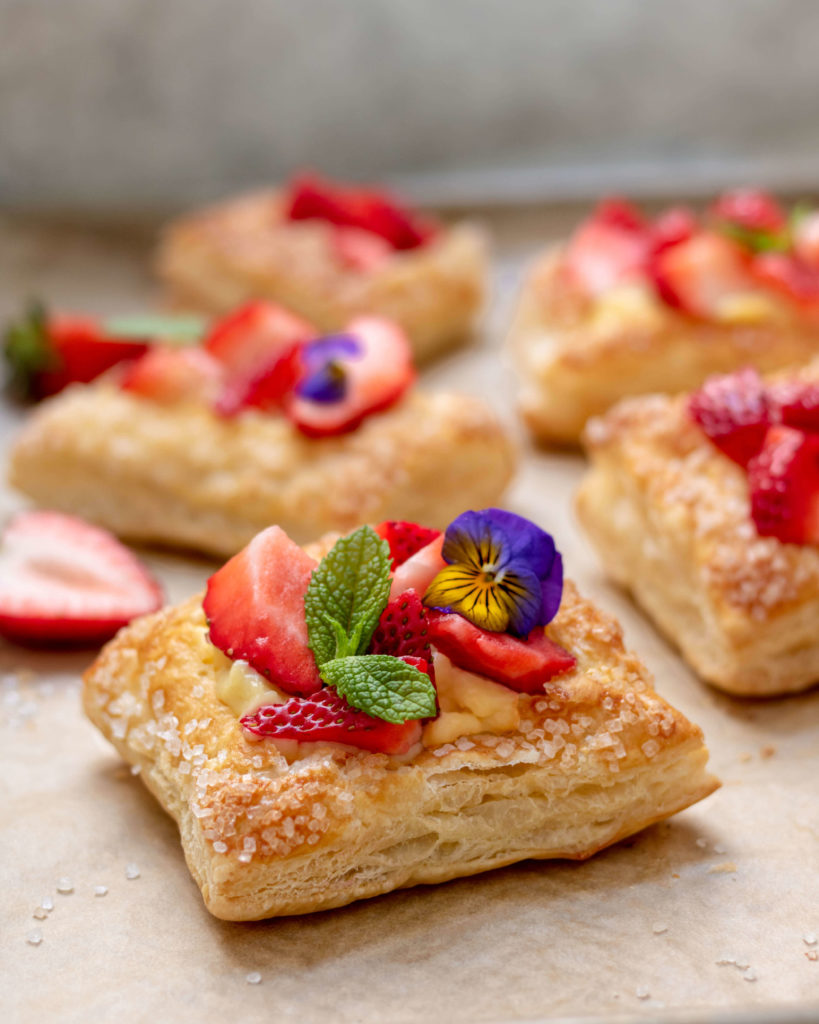 The combination of the sweet, tender strawberries with the rich, smooth pastry cream is a match made in dessert heaven. Each bite is a symphony of flavors and textures, with the crispness of the pastry crust giving way to the creamy filling and the juicy sweetness of the strawberries.
These mini tarts are perfect for any occasion, whether you're hosting a fancy dinner party or simply treating yourself to a luxurious dessert. Their small size makes them ideal for individual servings, allowing everyone to enjoy their own delightful piece of heaven.
You can easily customize these mini tarts by adding a drizzle of chocolate ganache, a sprinkle of powdered sugar, or a dollop of whipped cream. Get creative and make them your own!
Don't miss out on the heavenly combination of strawberries and pastry cream. Treat yourself and your loved ones to these delightful Strawberry and Pastry Cream Mini Tarts. They are sure to leave everyone craving for more!
If you try out these Strawberry and Pastry Cream Mini Tarts, please do not forget to rate it and leave a comment! I love reading and replying to all your comments! You can also tag your pics to @elinasaiach on Instagram!
Strawberry and Pastry Cream Mini Tarts
Ingredients
1

puff pastry, store-bought or homemade

1

beaten egg

Sugar for sprinkling

250

g

strawberries, sliced
For the Pastry Cream:
2

cups

milk

1/2

cup

sugar, divided

1

tbsp

vanilla extract 

5

egg yolks

1/4

cup

cornstarch
Instructions
Preheat the oven to 400F/200C. Cut the pastry into 6 rectangles and use a knife to score a border inside each rectangle. Brush each rectangle with beaten egg and sprinkle the edges with sugar. Bake for 15 minutes or until they start to turn golden.

For the pastry cream: In a small saucepan, heat the milk, 1/4 cup of sugar, and vanilla over medium-low heat.

In a bowl, mix the cornstarch and the remaining 1/4 cup of sugar. Add the egg yolks and mix well. Gradually add a few tablespoons of the hot milk to the egg mixture. This is done to temper the yolks and prevent them from curdling. Once tempered, pour the egg mixture into the saucepan with the hot milk. Bring to a low boil again, stirring constantly, for 2-3 minutes. Allow to cool with plastic wrap directly on the pastry cream to prevent the formation of a skin.

Using a knife, cut out the center rectangle of each tart so that the center can sink. Fill each tart with pastry cream and top with the sliced strawberries.