Hey dessert lovers! I have a treat for you today: Baklava! Brace yourselves for a journey through layers of flaky pastry, crunchy nuts, and a heavenly syrup.
Baklava, a Middle Eastern masterpiece, is a symphony of flavors that will leave you craving for more. Each bite is an explosion of textures and sweetness that takes your taste buds on a magical adventure.
Did you know that baklava has a fascinating history dating back to the Ottoman Empire? It has since become a symbol of celebration and indulgence, captivating hearts and taste buds around the world.
The secret lies in the perfect combination of ingredients. Delicate layers of filo pastry, carefully brushed with melted butter, create a crispy and buttery base. Finely chopped nuts, like walnuts, pistachios, or almonds, add a delightful crunch and a nutty aroma that will have you swooning.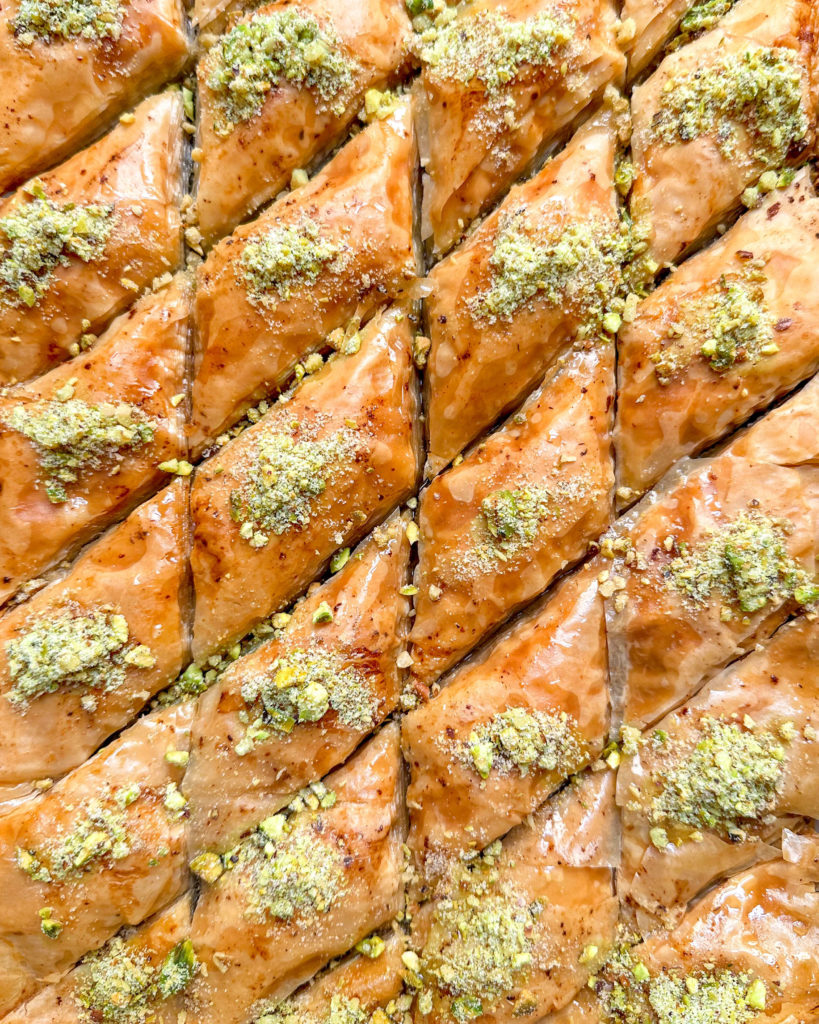 But wait, there's more! The pièce de résistance is the sweet syrup that brings baklava to life. A magical blend of sugar, water, honey, and a hint of lemon creates a divine elixir that seeps into every layer, creating a moist and tender sensation with each bite.
Whether you prefer diamond or square-shaped pieces, the aesthetics of baklava are just as mesmerizing as its taste. The intricate layers and golden hues make it a feast for the eyes as well.
So go ahead, treat yourself to this enchanting dessert. Pair it with a cup of your favorite tea or coffee for the ultimate indulgence. Take a moment to savor the harmonious blend of flavors and appreciate the culinary heritage behind this beloved pastry.
If you try out these Baklava, please do not forget to rate it and leave a comment! I love reading and replying to all your comments! You can also tag your pics to @elinasaiach on Instagram!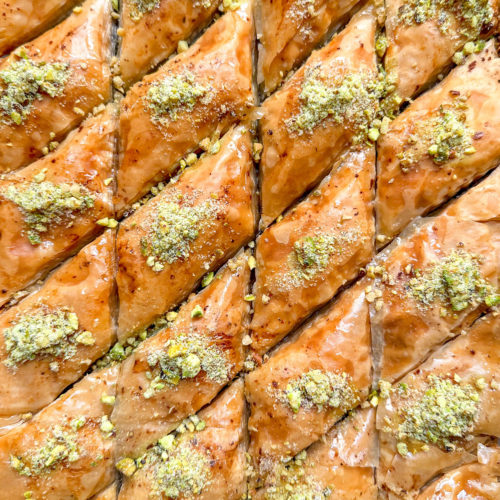 Baklava
Ingredients
For the Pastry:
3

cups

pistachios and walnut, coarsely chopped 

1/2

cup

sugar

3/4

cup

unsalted butter, melted

16-

oz

package phyllo dough, thawed 
For the Syrup:
1

cup

sugar

3/4

cup

water

3

tbsp

honey

1

tbsp

lemon juice

1

tsp

rose water (you can add more if you like)
Instructions
Preheat your oven to 350°F/175°C. In a food processor, chop the pistachios and nuts with the sugar.

Brush a 9 x 13 baking pan with melted butter. Carefully unroll one of the two phyllo rolls and cover the baking pan. You can cut the borders if you need. 

Sprinkle the nut mixture over the layered phyllo sheets. Open the other phyllo dough roll and lay on top of the nut mixture.

Using a sharp knife, carefully cut the baklava into diamond or square-shaped pieces, making sure you cut it through to the bottom of the pan.

Pour the melted butter over the baklava and bake until golden brown, about 50 minutes.

While the baklava is baking, prepare the syrup. In a saucepan, combine the sugar, water, honey, and lemon. Bring the mixture to a boil over medium heat, stirring occasionally. Once it boils, reduce the heat and let it simmer for about 8 minutes until the syrup slightly thickens.

When the baklava is ready, remove it from the oven and pour the syrup over the baklava, making sure to cover all the pieces. You can also sprinkle additional chopped nuts on top for garnish if desired.

Allow the baklava to cool completely and absorb the syrup before serving. Enjoy your homemade baklava!