Today, I am thrilled to share with you a delightful recipe that will captivate your taste buds and leave you craving for more: an Apricot and Frangipane Tart.
Imagine a perfect harmony between the tangy sweetness of apricots and the lusciousness of frangipane—a match made in culinary heaven! This exquisite tart combines the natural juiciness of apricots with the delicate, almond-infused creaminess of frangipane.
The buttery and flaky pastry crust serves as the perfect vessel to hold this divine combination together.
Baking this Apricot and Frangipane Tart not only fills your kitchen with an irresistible aroma but also offers you the chance to create a masterpiece that is as visually stunning as it is delectable!
The frangipane can be made in advance, up to 2 days ahead, and taken out of the refrigerator a couple of hours before assembling the tart. And as I always say, there's nothing more convenient than having a pre-made tart crust in the freezer or refrigerator!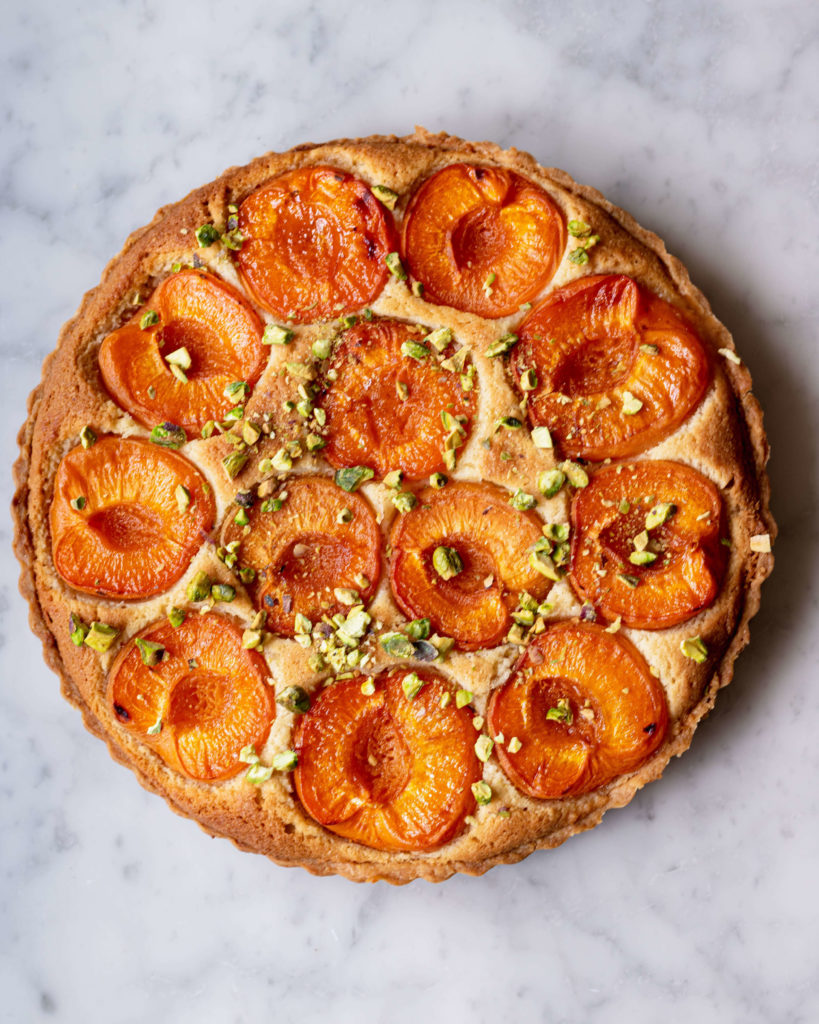 If you try out this Apricot Frangipane Tart , please do not forget to rate it and leave a comment! I love reading and replying to all your comments! You can also tag your pics to @elinasaiach on Instagram!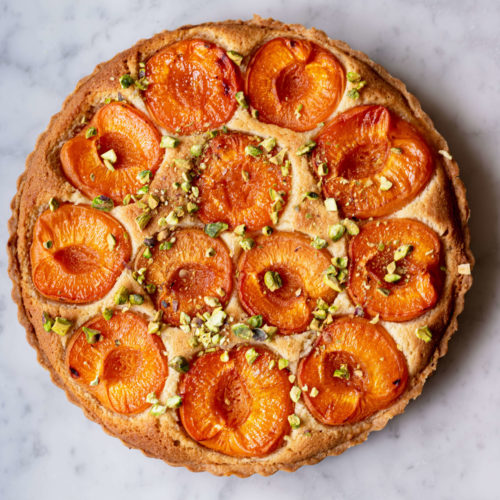 Apricot Frangipane Tart
Ingredients
For the crust:
1 1/4

cup

all-purpose flour

1

tbsp

sugar

1/2

cup

unsalted butter, cubed

1

egg yolk

1-2

tsp

iced water
For the frangipane:
1/2

cup

unsalted butter, at room temperature

1

cup

confectioners' sugar 

1/2

tsp

almond extract

1

tsp

vanilla extract

2

eggs

5

tbsp

all-purpose flour

1 1/4

cup

almond flour
Topping:
6

apricots, halved

Syrup or honey

Pistachios or almond, chopped

(optional)
Instructions
For the crust: mix the flour and sugar. Add cold butter and crumble it with your hands until it resembles coarse crumbs. Add the egg yolk and form the dough. If necessary, add cold water, a teaspoon at a time. Let it rest for 30 minutes. Preheat the oven to 350F/ 180C. Roll out the pastry and place it in a 9-inch springform tart pan. Blind bake at 350F for 15 minutes, then an additional 5-10 minutes. You can find a step-by-step guide on "How to Make a Perfect Pie Crust?"

For the frangipane: beat the butter and sugar until creamy. Add the eggs one at a time and beat well. Stir in the almond and vanilla extracts, followed by the almond and all-purpose flour. Mix until well combined.

For assembly: spread the frangipane over the tart base and arrange the apricots on top. Brush the apricots with syrup or honey and bake in the oven at 350F/ 180C for 40 minutes or until the frangipane is firm and golden. If desired, sprinkle with pistachios or almonds. Serve at room temperature.