It is so wonderful to serve homemade bread at the Sunday table! Nice, tasty bread is a must at the dinner table. It freezes really well, and when needed, a few minutes in the oven straight from the freezer, and it will be as good as freshly baked!
Check out my video of White Breakfast Bread to see every step of the process. I am sure you will love this flavored bread!
Besides Basil Pesto, you can also use a mix of Fresh Herbs, Sun Dried Tomatoes or Olive Tapenade. 
If you try out this Pesto Bread, please do not forget to rate it and leave a comment! I love reading and replying to all your comments! You can also tag your pics to @elinasaiach on Instagram!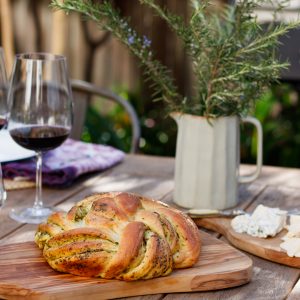 Pesto Bread
Ingredients
For the dough:
650

grs

warm water

1

tbsp

active dry yeast (10gr)

1

tbsp

salt

85

grs

sugar

(or honey)

55

grs

oil

(any kind)

1

kilo

bread flour
For the pesto:
2

cups

fresh basil

(or a mix of fresh herbs)

1/3

cup

grated cheese, like Parmesan

(35gr)

2

tbsp

roasted almonds or walnuts

(30 gr)

1/4

cup

olive oil

Juice and zest of 1 lemon

Salt and pepper

Cream cheese (as needed) at room temperature
Instructions
For the dough:
Follow steps 1, 2 and 3 of the White Breakfast Bead.

Roll out one of the 500gr balls of dough into a 25x30cm (10"x12") rectangle.

Spread cream cheese over it and top with the Pesto.

Roll it up starting from one long side, finish with the seam side up, and cut in half lengthwise, leaving cut edges facing up. 

Pinch both ends together and make a braid, always keeping the cut edges facing up. Pinch the other ends together to form a wreath. Tuck the ends under the braid. Transfer to a baking sheet lined with parchment paper. 

Gently cover with plastic wrap and let it rise for 45 minutes in a warm place, away from draughts. Repeat the whole process with the second ball of dough.

Brush with egg wash (1 egg + 1 tbsp water or milk) and bake in a preheated oven at 180°C/350°F for 30-40 minutes, or until golden brown. 
Notes
Tips:
This Pesto Bread can be frozen and popped in a preheated oven straight from the freezer, as needed.
If you wish to make several small braids, or even individual ones, just use smaller balls of dough and follow the same procedure.