I usually make these tacos whenever there is leftover barbecue beef, although any other type of cooked beef will do just fine. They are a true lifesaver on Mondays! They always come out great and everybody loves them!
They are very easy to make, all we need besides the beef are corn tortillas, some veggies, some salsa or just some guacamole.
The trick for tortillas with crispy edges is placing them directly on the stove burner over the fire, flipping them constantly.
If you try out these Beef Tacos, please do not forget to rate it and leave a comment! I love reading and replying to all your comments! You can also tag your pics to @elinasaiach on Instagram!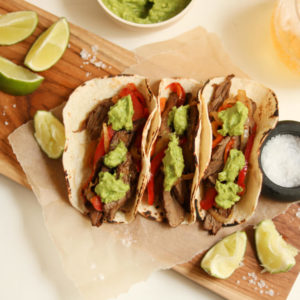 Beef Tacos
All we need to do for this super simple version is thinly slice some onions and bell peppers, and brown them in a skillet with olive oil. Then add the beef, also thinly sliced, season with salt, pepper and any other seasoning of your choice, like flaked peppers, cumin, garlic, oregano or sweet paprika. There are many varieties of salsa to go with Mexican Tacos, but if we want to keep it simple, just some guacamole will do.