Tomorrow is Thanksgiving, one of the most important holidays in the US, which occurs on the fourth Thursday in November. There are many versions of its origin, but the most popular one is in honor of the English colonists who arrived in Plymouth in 1621.
However, its significance has changed through time, and nowadays it is mostly about getting together with family and friends, sharing a hearty meal, and celebrating the blessings of the past year.
Preparations begin a few weeks in advance, when all the families decide on the menu for that day. Serving turkey is a must, and so is Pumpkin Pie, which is basically mashed pumpkin and spices.
Here is the recipe so that you can make your own! Once you make the pie crust, the filling is put together in no time, just combine all the ingredients in one bowl and voilà!
You can make the Pie Crust a couple of days ahead and keep it in the fridge until you are ready to bake. This saves precious time on the day of the celebration, because it is always such a busy day!
Once baked, the filling is super creamy, and the crust is crunchy. There is no Thanksgiving without a tasty Pumpkin Pie to share at the table with guests and family, who surely cannot wait to try it! Remember that you should wait until it is completely cooled to slice it.
If you wish to give your pie a fancier look, you can use a cookie cutter to cut out any shape of your choosing to decorate the edges of the crust. You can serve it with a dollop of whipped cream and dust it with cinnamon.
If you try out this Pumpkin Pie, please do not forget to rate it and leave a comment! I love reading and replying to all your comments! You can also tag your pics to @elinasaiach on Instagram!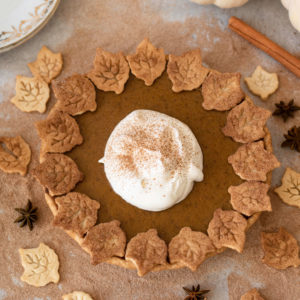 Pumpkin Pie
Ingredientes
For the crust:
200

grs

all-purpose flour

1

tbsp

sugar

100

grs

unsalted butter, cut into bits

3-4

tbsp

cold water
For the filling:
430

grs

pumpkin puree

140

grs

light brown sugar

3

eggs

1

cup

whipping cream + ½ cup milk

2

tsp

vanilla extract

1 1/2

tsp

cinnamon

1/4

tsp

nutmeg

1/2

tsp

ground ginger

1/4

tsp

ground cloves

Pinch of salt
Instrucciones
For the crust: Mix flour, sugar and salt. Rub in the butter until the mixture is crumbly. Add the water to form the dough. Chill for 30 minutes. Roll it out on a floured surface and transfer into a greased round baking dish. Bake in a preheated oven at 180ºC / 350ºF for 15 minutes, and then for an additional 5 minutes. Let it cool. You can check out every step of the dough making process in my recipe of How to make pie crust?

In a bowl, whisk together eggs and sugar. Add the pumpkin puree, milk, cream, cinnamon, nutmeg, cloves, ginger and vanilla extract. Mix to combine.

Pour the batter into the prepared baking dish and bake in a preheated oven at 180ºC / 350ºF for 50-60 minutes or until the filling is set. Let it cool completely. Optional: serve with whipped cream.