As the calendar flips to September, we're about to dive into the perfect dish that's not only back-to-school friendly but also a warm and cozy hug on those cool autumn nights. Picture this: juicy, mouthwatering meatballs cozied up with RiceSelect Orzo, all woven together. It's all about flavors, textures, and the pure magic that unfolds when you bring these ingredients together. So, tighten those apron strings and get ready for a flavor-packed journey!
Before we dive into this recipe, I want to tell you why I love orzo so much. First, it's super versatile, blending beautifully well with salads, stews and soups, in addition to this -what I love the most- it soaks up any flavors you throw its way.
Here's a golden nugget for crafting a perfect orzo dish: when cooking orzo, aim for that perfect al dente texture. Start testing it a minute or two before the package instructions suggest, as it tends to cook quickly. You want it to be tender yet slightly firm to the bite.
If you try out this Orzo and Meatballs with Tomato Sauce please do not forget to rate it and leave a comment! I love reading and replying to all your comments! You can also tag your pics to @elinasaiach on Instagram!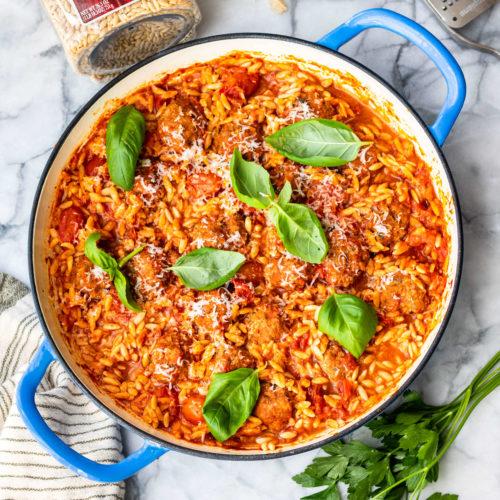 Orzo and Meatballs with Tomato Sauce
Ingredients
For the meatballs:
1

pound

ground beef

1/2

cup

dry breadcrumbs

2

tbsp

finely chopped parsley

3

tbsp

 finely grated Parmesan cheese

2

large egg + 1/4 cup milk

Salt and Pepper

3

cups

tomato sauce

10

oz

cherry tomatoes

2 or more

cups

chicken broth, or vegetable broth

1 1/2

cup

Rice Select Orzo
Instructions
In a large bowl combine the meat, breadcrumbs, parsley, Parmesan cheese, eggs, milk, salt, and pepper. Mix everything with your hands, but don't overmix. Form the meatballs and arrange them on a tray. You'll have around 32 meatballs.

In a casserole heat the tomato sauce, add the cherry tomatoes and 1 cup of broth. Add the meatballs. Lower the heat, cover, and cook for 20-25 minutes turning them often. Taste and adjust salt.

Remove the lid, add more broth if needed, stir in orzo, and cook uncovered for 8-10 minutes. To serve, sprinkle with Parmesan cheese, parsley, or basil leaves and enjoy!