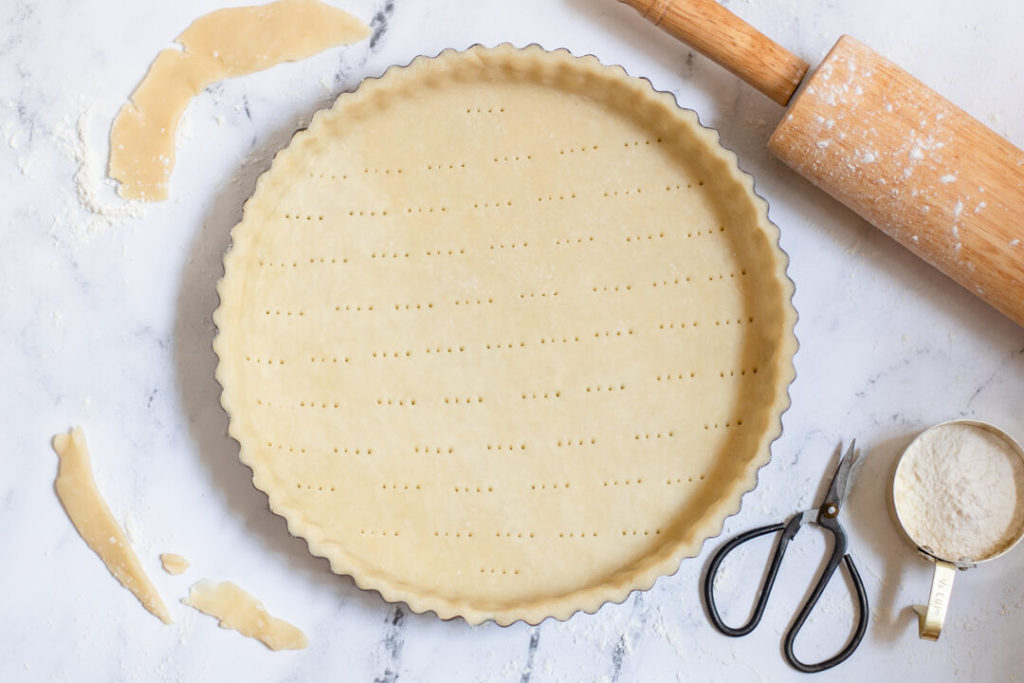 For a pie to be perfect, besides the filling, we need a perfect crust. Flaky, soft and delicious. I will share several tips with you that you should have in mind when making this recipe. Once you get the hang of it, you will never want to use store-bought crust again.
This recipe is for sweet pie crust, but you can replace the sugar with salt and get a savory crust, to which you can also add herbs, seeds, or even replace the butter for cream cheese.
Doubling the recipe and keeping the other half in the freezer for 1 month is a great tip. I always have some frozen pie dough; it is a real lifesaver for sweet and savory pies as well as galettes.
For those of you who prefer to use whole wheat flour, you can replace part (or all) of the flour for whole wheat.
You can go to my video where I show you all the steps of the process and I give you some infallible tips to get a flaky, delicious crust.
If you try out this Pie Crust, please do not forget to rate it and leave a comment! I love reading and replying to all your comments! You can also tag your pics to @elinasaiach on Instagram!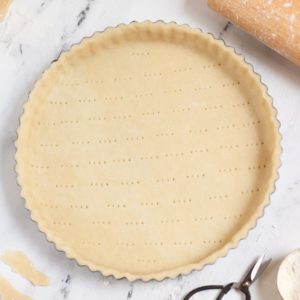 How to Make a Perfect Pie Crust
Ingredients
1 1/2

cup

all-purpose flour

1

tbsp

sugar

1

Pinch of salt

8

tbsp

unsalted cold butter, cubed

3 to 4

tbsp

cold water
Instructions
In a big bowl mix the flour, sugar and salt. Rub in the butter until the mixture is crumbly. 

Add the water to form the dough. Do not knead, just press it together.

Shape it into a disc, wrap it in plastic and chill for at least 30 minutes.

Remove from the fridge and let it stand for a few minutes so it does not break up. Roll it out on a floured surface, fit it into a pie plate and trim the excess. Prick it with a fork.

Preheat the oven at 180°C/350°F. Cover the crust with tin foil, fill it with beans (or any other legume) to weigh it down and prevent it from rising, and bake it for 10 minutes. Then remove the beans and the foil, and bake for 5-10 more minutes until golden brown. Let it cool at room temperature and pour in the filling of your choosing. 
Notes
Tips:
To make a savory dough, just replace the sugar with ½ tsp. You can also add herbs, seeds, or even replace the butter for cream cheese.
You can make it ahead and store it in the fridge wrapped in plastic for 4-5 days, or keep it in the freezer for 1 month.
It is important to make sure the butter is always cold to prevent it from softening.
This crust covers a 11 or 12-inch pan. If you need to cover the pie with a top crust, just double the recipe.
Rotate the dough as you roll it out so it does not stick to the working surface.
If the edges start breaking up, press them back together and continue rolling.