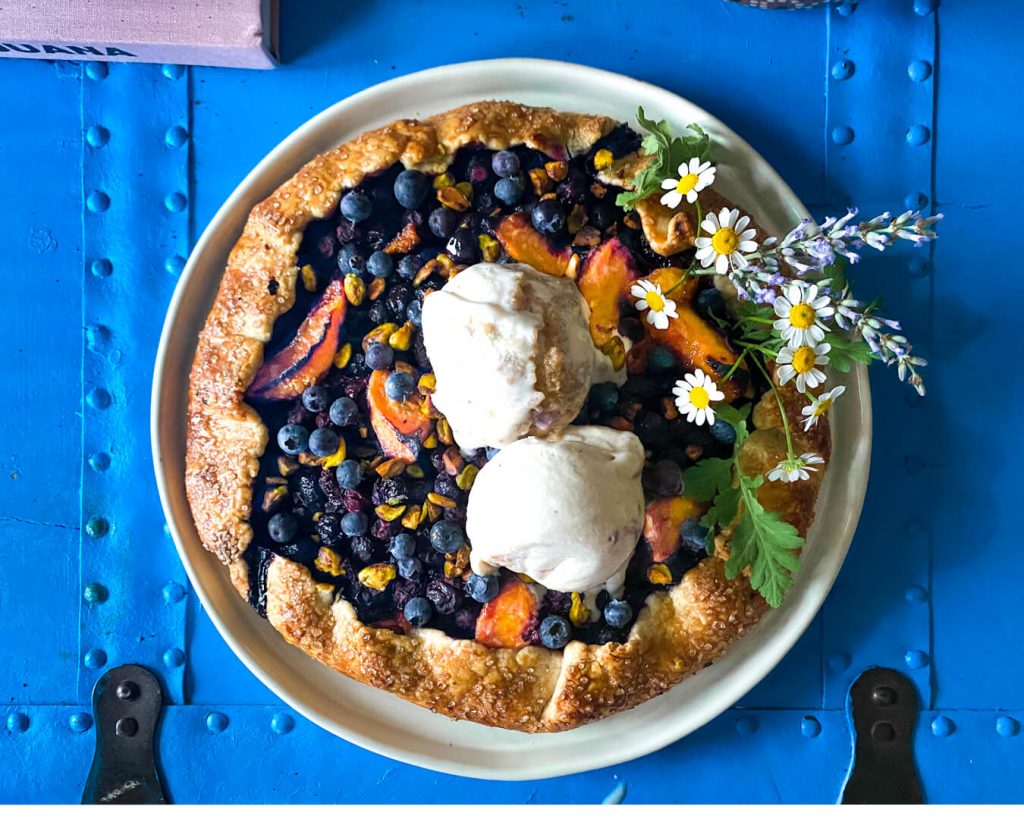 As you probably know by now, galettes are one of my favorite deserts, not only because they are absolutely delicious, but also because they are very practical when you are pressed for time.
I always keep some frozen dough, which is a real lifesaver, so I just add the fruit and it is ready to bake in no time! And the best part is that it does not need to look perfect, on the contrary, a rustic look is what we are going for!
After rolling out the dough, cover the bottom with some roasted pistachios for a crunchy touch. Then place the fruit of your choice on top and fold the dough up and around the fruit, pressing a little with your hands. Brush the edges with a slightly beaten egg or cream so that they turn golden brown, and sprinkle with light brown sugar.
This time I used blueberries and peaches, but almost any fruit works. The pistachios add great flavor and a crunchy texture.
If you are looking for other galette recipes, please check out the Plum Galette and the Peach Galette.
If you try out this Blueberry and Fruit Galette, please do not forget to rate it and leave a comment! I love reading and replying to all your comments! You can also tag your pics to @elinasaiach on Instagram!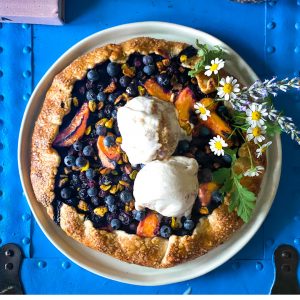 Blueberry and Fruit Galette
Ingredients
For the crust:
200

gr

all-purpose flour

1

tbsp

white sugar

140

gr

unsalted cold butter, cubed

2-3

tbsp

cold water
For the crunchy base:
40

grs

roasted pistachios, preferably peeled and chopped

¼ cup light brown sugar + ½ tsp cornstarch
For the filling:
About 700gr blueberries and peaches (or plums, pears, apples, etc., fresh or frozen)

2

tbsp

cornstarch

1/4

cup

light brown sugar

2

tbsp

lemon juice
Instructions
For the crust: Combine flour and sugar. Rub in the butter until the mixture is crumbly. Add 2 tbsp cold water to form the dough. Do not knead. Wrap in plastic wrap and chill for 30 minutes.

For the crunchy base: Combine pistachios, sugar and cornstarch. Reserve.

For the filling: In a bowl, mix all the fruit with the lemon juice, cornstarch and sugar. Reserve.

To assemble: Preheat oven at 180°C/350°F. Roll out the dough into a circle of about 30cm (11 inches) and place it on a baking sheet lined with parchment paper. Cover the bottom with the pistachio mixture leaving a 2-inch border. Pour in the fruit mixture, fold up the edges of the dough around the filling, and gently pleat to seal, pressing it with your hands. Brush the edges with a slightly beaten egg and sprinkle with light brown sugar. Bake for 45-55 minutes, or until the fruit is tender, the juice bubbly and the edges are golden. Optional: sprinkle pistachios over the top. Let it cool and serve with whipped cream, ice cream or just on its own.