These patties are a delicious and nutritious addition to your menu! Packed with the goodness of RiceSelect Tri-Color Quinoa, sweet potato, and zucchini, they deliver a satisfying blend of crunchiness and delicious taste.
They are the perfect option when have leftovers, you can customize with your favorite ingredients!! My kids loves these patties, and I always try to add seasonal ingredients! Feel free to experiment with different herbs, spices, and vegetables to suit your taste preferences.
The accompanying yogurt sauce adds a tangy twist that complements the patties perfectly. Whether enjoyed as a standalone treat, a burger alternative, or a side dish, these patties are sure to satisfy your taste buds and your desire for healthier options. Give them a try for a tasty and wholesome culinary journey!
If you try out these Tri-Color Quinoa Patties, please do not forget to rate it and leave a comment! I love reading and replying to all your comments! You can also tag your pics to @elinasaiach on Instagram!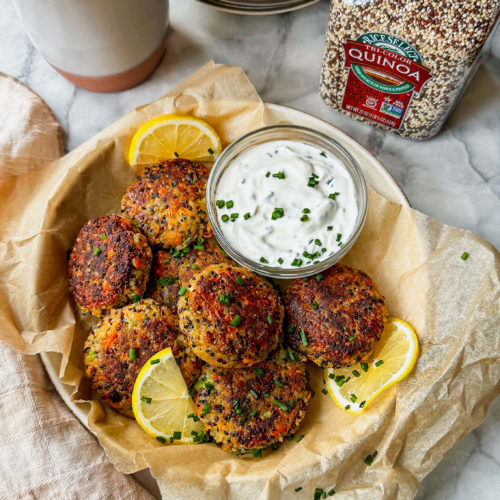 Tri-Color Quinoa Patties
Ingredients
For the patties:
1

cup

uncooked quinoa

(I used @RiceSelect Tri-Color Quinoa)

2

cups

water

1

small sweet potato, shredded 

1

small zucchini, shredded and drained 

2

green onions, sliced

1/2

cup

Parmesan cheese, shredded

3/4

cup

breadcrumbs

2

eggs

Salt and pepper

Paprika

Olive oil
For the sauce:
1

cup

greek yogurt

Lemon juice

Salt and pepper

Fresh herbs, chopped
Instructions
Bring water to a boil. Add 1/2 tsp salt and 1 tsp olive oil, if desired. Stir in quinoa. Cover with lid; reduce the heat to low and simmer 15 minutes. Remove from heat and let stand (covered) for 5 minutes. Fluff with a fork and let it cool.

Make the yogurt sauce by mixing together all the ingredients.

In a bowl, mix together the cooked quinoa, sweet potato, zucchini, green onions, Parmesan cheese, breadcrumbs, eggs and the seasoning. Take a handful of the mixture and shape it into a patty.

In a skillet, heat some olive oil over medium-high heat. Carefully place the quinoa patties in the pan and cook them on each side until they are golden brown and crispy. Serve them with a dollop of yogurt sauce.