This Braided Easter Bread is actually an Easter Panettone with colored eggs on top, so typical of Easter holidays.
This super soft and tasty brioche can be braided into a large bread or made into small, individual ones that look so pretty! And all the kids love coloring the eggs!
This is a no-knead bread, so it is much simpler to make than it looks! Just place all the ingredients in a large bowl and mix until well combined. The dough will be very soft but will firm up after rising, which takes 2 hours. Then it is braided and left to rise again.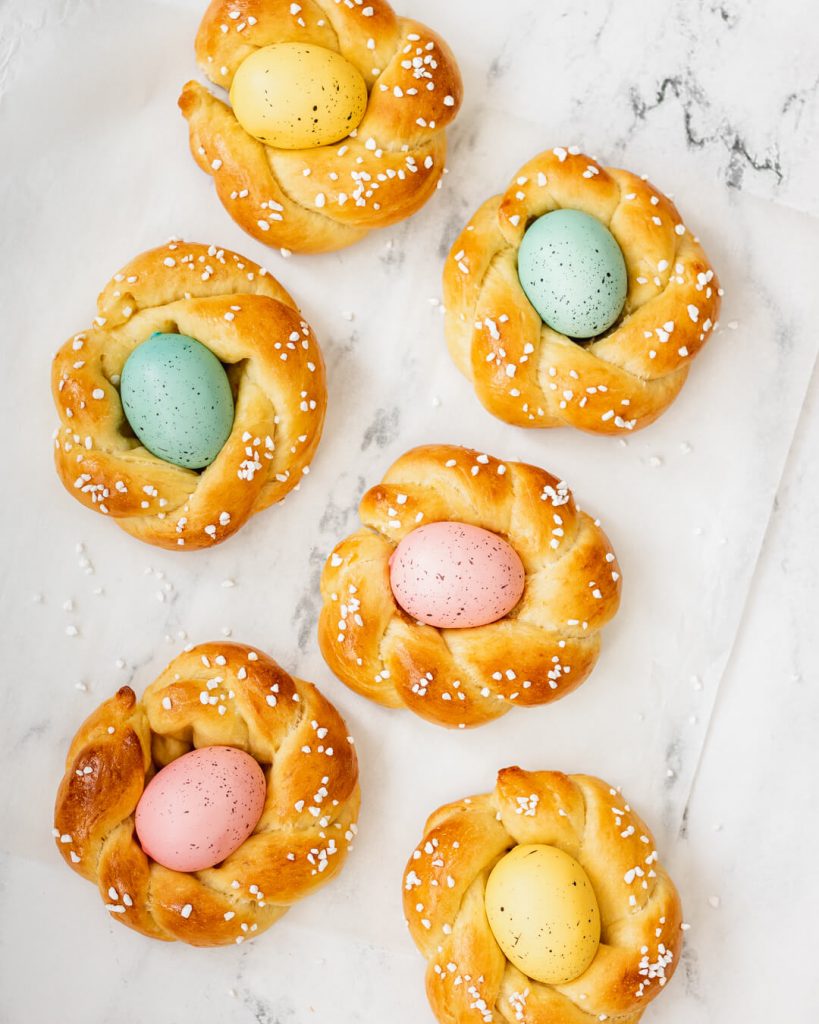 If you wish to make individual braids, just divide the dough into smaller pieces, roll them into ropes and follow the same procedure than for the larger ones.
Before baking, brush them with beaten egg and sprinkle with pearl sugar, which does not melt in the oven, or you can use any other kind of sugar. It also tastes amazing with pastry cream or glazing.
If you try out this Sweet Braided Easter Bread, please do not forget to rate it and leave a comment! I love reading and replying to all your comments! You can also tag your pics to @elinasaiach on Instagram!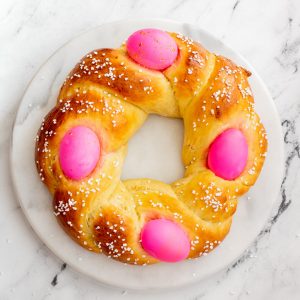 Sweet Braided Easter Bread
Ingredients
320

grs

warm water

1

tbsp

active dry yeast

(10 grs)

1

tbsp

salt

4

eggs, slightly beaten with a fork

1/2

cup

honey

1

tsp

ground cardamom

(optional)

Orange zest

115

grs

unsalted butter, melted

1

kilo

bread flour
Instructions
In a large bowl (or the stand mixer bowl), mix water, yeast, salt, eggs, honey, cardamom, orange zest and melted butter. Add flour and mix well (do not knead) with your hands, wooden spoon, or stand mixer. The dough will be very soft but will firm up after rising.

Cover with plastic wrap and let rise for 2 hours in a warm place, away from draughts. In the meantime, color the eggs.

Take approximately 700gr of the dough. Dust with flour and shape into a ball. Divide in half and shape each half into 2 ropes of about 60cm long. Twist both ropes together and form a ring. Pinch the ends together well.

Place the ring on a baking sheet lined with parchment paper and push deep inside the twist to make place for 4 eggs. Cover loosely with plastic wrap and let rise for 1 hour. 

Preheat the oven to 180°C/350°F. Brush the dough with egg wash (1 beaten egg + 1 tbsp water) careful not to touch the eggs. You can sprinkle the dough with pearl sugar (optional). Bake for 30-4- minutes or until golden brown. 
To color the eggs:
Boil 4 eggs and then place them in a pot with more boiling water. Add 3 tbsp vinegar and a few drops of food coloring. Let them rest for at least 30 minutes, stirring occasionally. Then, dry them with paper towels and place them on the braided bread. 
Notes
Tip:
To make individual braids, take 500gr of dough and divide it into 6 pieces. Make 25cm-long ropes and follow the same procedure described above.