These Mini Asparagus Tarts are so delicious! You will absolutely love this flaky, buttery crust!
We usually think that making puff pastry is a lot of work, but it is actually not that hard to make. Even though it does take a few more steps than a regular crust, it is not difficult, and the result is totally worth it!
For the cream cheese filling, all you need to do is just mix all the ingredients and then place the asparagus on top. Personally, I like to give the crust a special crispy touch around the edges with some seeds, but you can totally replace them with Parmesan cheese, or simply just brush the edges with egg wash.
You can use this as your base recipe, and then adapt it to any vegetable combination you prefer, like tomatoes and basil, artichokes or caramelized onions.
This makes a great lunch or dinner with a salad on the side! It is also perfect for brunch!
Tip: You can make this dough ahead, wrap it in plastic wrap and store it in the fridge for up to 2 days, or 1 month in the freezer.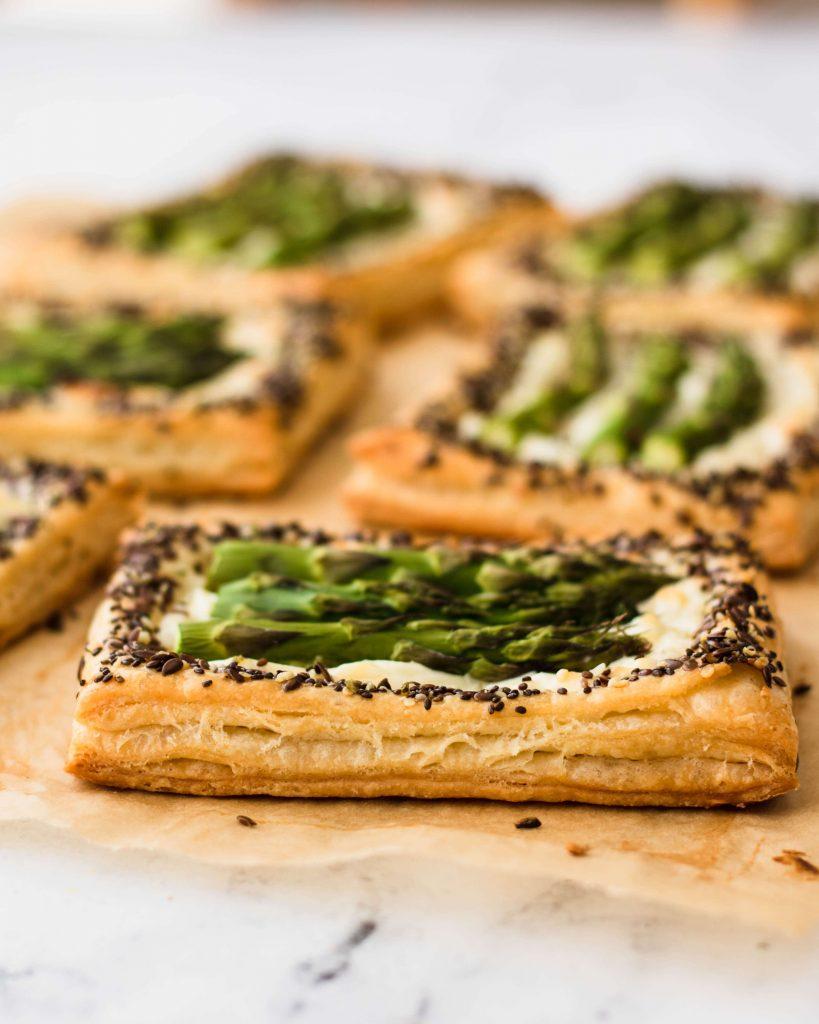 If you try out these Mini Asparagus Pies, please do not forget to rate it and leave a comment! I love reading and replying to all your comments! You can also tag your pics to @elinasaiach on Instagram!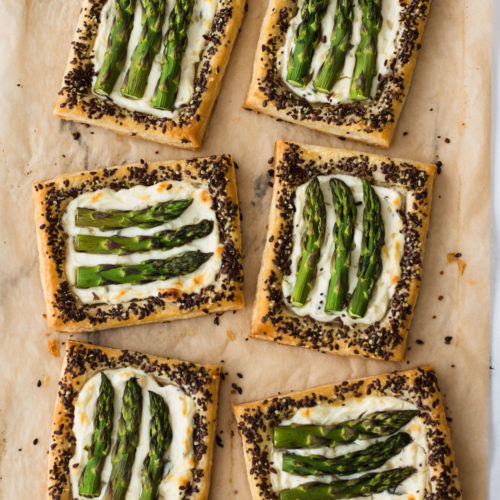 Mini Asparagus Pies
Ingredients
For the Crust:
250

g

all-purpose flour

2

tsp

salt

200

g

cold unsalted butter, cubed

3

or more tbsp ice cold water
For the Filling:
200

g

cream cheese at room temperature

3

tbsp

Parmesan cheese, grated

1

egg yolk

2

tbsp

fresh herbs, chopped (basil and/or dill)

300

g

asparagus, trimmed

1

egg

, slightly beaten

Seeds for decoration (optional)
Instructions
In a big bowl mix the flour, sugar and salt. Rub in the butter until the mixture is crumbly. Add 3 –4 tbsp ice cold water to form the dough. Do not knead. Shape it into a rectangle, wrap it in plastic wrap and chill for at least 30 minutes.

On a floured surface, roll out the dough into a 40x20cm rectangle. Fold it into thirds like a business letter. To do this, in your head divide the rectangle into 3 parts, then fold the bottom third upwards towards the middle, and then fold the top third downwards again towards the middle.

Now turn the dough at a 90 degree angle, flour the work surface, roll it again into a rectangle and fold it into thirds like a business letter. Repeat the procedure one more time.

Wrap the folded rectangle in plastic wrap and chill for at least 1 hour.

Preheat oven at 190°C/370°F and line 1 or 2 baking sheets with parchment paper.

For the filing, mix cream cheese, Parmesan, egg yolk and herbs. Season with salt and pepper if needed.

On a floured surface, roll out the dough into a rectangle, trim the edges, cut the dough in half horizontally, then each strip into 4 rectangles and place them on the prepared baking sheets.

Draw an inner border on the inside of each rectangle with a knife. You can check out this step in my Reel.

Spread some filling inside each rectangle and neatly arrange the asparagus on top. Brush the edges with egg wash and sprinkle with seeds. Bake for 12 minutes or until golden brown.