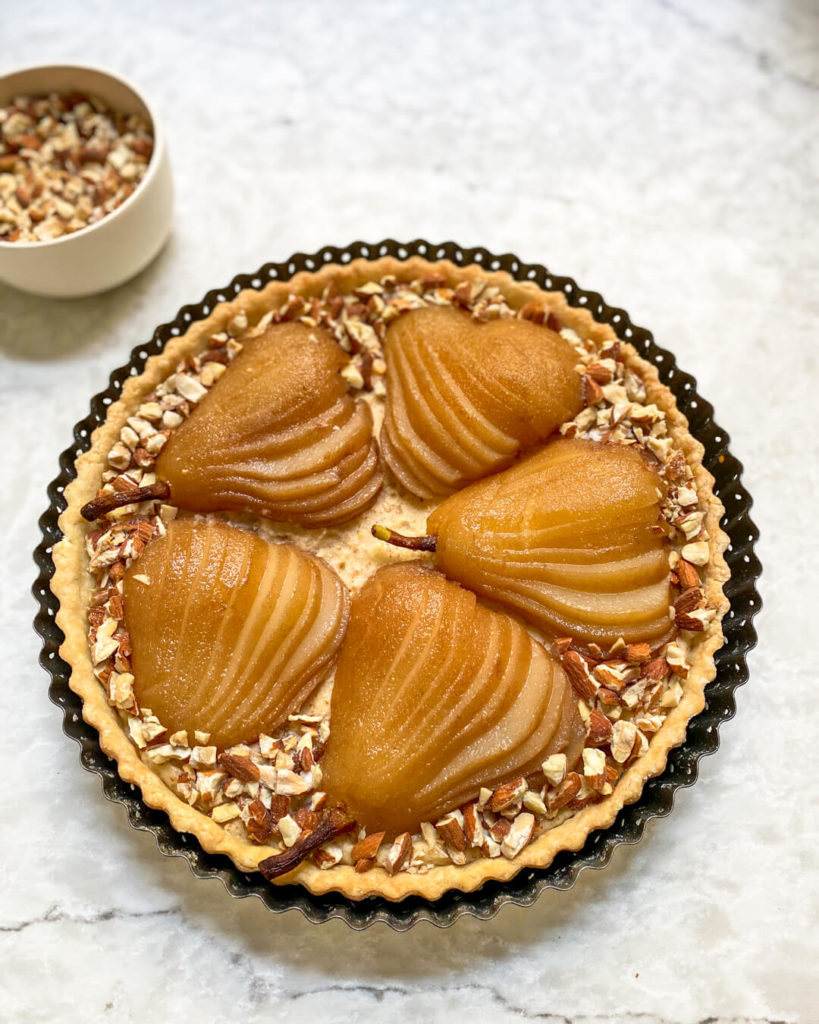 This is a classic French tart with a sweet crust filled with pears and almond cream. If you are looking for a flashy recipe, this is it!
Frangipane is also known as Almond Cream, made with butter, processed almonds, eggs, sugar and very little flour. You can also add almond or vanilla extract. This cream and pears are a perfect match!
This almond cream is much used in French patisserie, and it is truly delicious! Although this tart takes a little longer to make, the procedure is quite simple. You can make both the frangipane mixture and the pears 1 or 2 days ahead and store them in the fridge.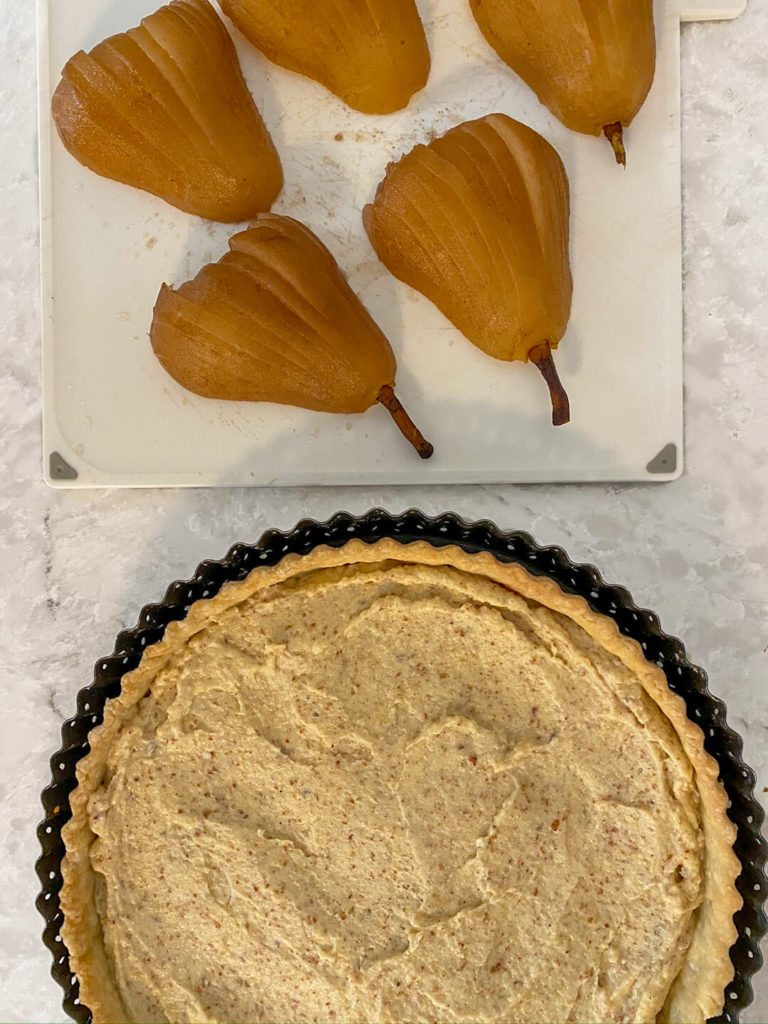 If you try out this Pear Frangipane Cake, please do not forget to rate it and leave a comment! I love reading and replying to all your comments! You can also tag your pics to @elinasaiach on Instagram!
Pear Frangipane Tart
Ingredientes
For the crust:
200

grs

all-purpose flour

1

tbsp

sugar

100

grs

cold unsalted butter, cut into bits

1

egg yolk
For the pears:
3

firm pears (unripe)

1

black tea teabag,

optional

3

strips of orange peel

2

cups

white sugar

1

tsp

cinnamon

1/2

tsp

ground ginger
For the frangipane:
125

grs

unsalted butter

125

grs

powdered sugar

125

grs

processed almonds,

or almond flour

3

eggs

1/4

tsp

almond extract,

or vanilla

30

grs

all-purpose flour
Instrucciones
For the crust: Mix flour, sugar and salt. Rub in the butter until the mixture is crumbly. Add the yolk and knead until the dough comes together. Chill for 30 minutes. Roll it out on a floured surface and transfer into a greased round baking dish. Bake in a preheated oven at 180ºC / 350ºF for 15 minutes and then for an additional 5-10 minutes.

You can check out every step of the dough making process in my recipe of How to make pie crust?

For the pears: Fill a large pot with water, put in the orange peel, sugar, cinnamon and ginger (optional a black tea teabag) and let it boil for 10 minutes. Peel the pears and leave the stems intact. Make a hole in the bottom and remove the seeds. Place them in the pot and simmer for about 30 minutes, or until they are fully cooked. The longer they cook for, the stronger the tea flavor will be. Pears are done when they are fork tender. Place them on paper towels to drain. 

For the frangipane: In a blender or mixer cream together butter and sugar. Add eggs, one at a time. Add almond extract, processed almonds and flour, and mix until well combined. 

Assembling: Preheated oven at 180ºC / 350ºF. Pour the frangipane into the cooked pie crust and arrange the pears on top, cut in half and thinly sliced. Optional: sprinkle the top with chopped almonds. Bake until the cream is set and the top golden brown.